Thursday, September 30, 2004
I had bad news from one of my friends yesterday..Relationship problems.. felt so angry and sad at the same time.. Hope things work out for her..
I love the new Blackcurrant Aloe Drink..Damn yummy.. Went to Jurong Point and bought loads of that juice,carrot and grapefruit juice..Mmmmm.. I reallllly want a 'S' charm necklace!! I saw one at this shop in JP..But they didnt have 'S'!!! how can they NOT have 'S'???? It's like one of the most important letters in the alphabet... STRAWBERRY, SEX, STIMULATION, SHAWN and most importantly....SUMI!!! Hahahaha.. Anyhoo..the ones I saw were very nice..Set with diamante stones.. The other ones at Perlini's is just silver.. Doesnt have the bling bling quotient!
Okiiieee.. Introducing mah girlies.... From the top left..Saras..Myself.. Bottom left..Joanne and Monica.. Pretty pretty girls!! Wah liao when we went to take this pic, we were really lost.. the machines have gotten so bloody advanced.. Then the lady came to help us and she must have thought that we are the most boringest bunch ever.. Coz we refused to have any of the stupid designs they offered or lil things sticking out of our heads..Like ewww..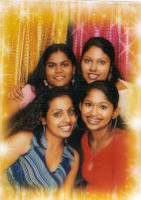 Mah Girlies..
So I'm stuck with editing my last bloody project..HR.. prob finish it by this weekend coz really need to get my butt down to revision.. Time really flies.. Feels like I just started the term and now its already exams.. Damn.. Feels like I'm drowning in a swirl of notes and books.. i NEVER had this many stuff to read for exams..Not enough RAM space in my brain laa to remember everything.. Well at least I am thankful that a HUGE % of marks are from projects.. Thanks goooddd.. Worth all that whining and complaining!!
OE's beckoning..
Later..