Wednesday, June 29, 2005
I'm no IT hotshot.. But I was bored.. And I couldnt stop thinking of Anniyan and Vikram..
So I did...
THIS...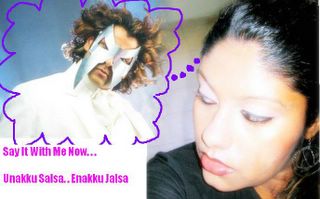 I Dream Of Thee...
*Eyes starts glazing over*
I tell ya.. My family has given up on me.. On my Vikram obsession.. It was pretty bad pre-Anniyan.. They could still handle it when I started spouting lines from Dhool and Saamy.. They even tolerated my full length Vikram poster that's in my room.. They just let it go when I bought bloody expensive Vikram Mega Nite tics..
But now..
Even I admit..I'm beyond help.. But do I care??
Nope.. Not when there's so much of Vikram to ogle at and dream about..
Vikram+Me+A Locked Room+30 mins= Total Fantasy Fulfilment and Satisfaction
*Grins Insanely Chandramukhi-like*
P.S: I found a new way of totally irritating my sister.. Just by singing..
"Kumaaaaaaariiiii...En Kaathal Sikki Mukhi Thikkirukuthu..
Kumaarrrrrrriiii..En Nenju Vimmi Vimmi Bammi Nikkuthu.."
Hahahahahahaaaaaaa...
Okie..Off to lala land with Remo.. Shooo.. Don't disturb..
Later...