Tuesday, August 30, 2005
Warning!! Picture Overload ahead!!
Apologies for being away for SO long!

What can I say?? My Party was OFF the freakin charts! It sooooo ROCKED!!!

Let's see.. The alcohol started the night before.. Wine and Chivas.. Bleh.. But we weren't crazy drunk, just pleasantly high..
I was so nervous the next day..Mainly coz I kept receiving smses that people couldnt make it! So I was afraid the whole party was gonna be a dud.. But my friends prove me wrong! Ananthi came over to do my hair and make up and when I saw myself in the mirror after she was done, I wanted to cry.. Coz I've never looked that good before! She is THE god of all things make up! I swear that woman has a magic touch!
So I cut the cake and fed everyone.. But did they leave me alone???
Nooooooooooo... My girls and my bf planned a 'sabo' for me!! *Mumbles* And it was the worst thing anyone could ask me to do..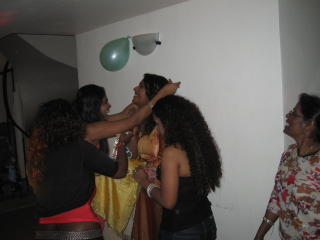 Can you see what they are doing to me??
Just take a guess..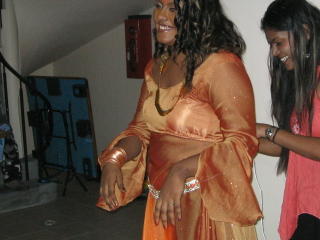 Lookie at the jewellery.. and the pottu..
*Pouts*
They made me dance Raa Raa from Chandramukhi!!!!!
Wah liao..I was so embarassed.. And shocked.. I didnt even move.. Me..Alone..Dancing to a song I don't really like from a movie I really hate! Like if they gave me ANY Vikram song I would have put my heart and sould into the dance.. But Raa Raaaaaaaaa.. *Wails* Thank god I had the dancers (My bf's younger brother's grp, Saints 101) around to help me.. And they did let me dance to the RnB version of the song.. So in the end it wasn't that bad.. NOT..
The boooooozzeee.. We were partying till 7am!! The DJ left around 1.30am and we blasted songs from my mp3 player till 7am..Tequila shots..Bailey shots.. Vodka Cranberry.. Phew.. We had SO much fun...
At this point I would like to let my bf know that he is the most wonderfullest bf anyone could have.. Thanks baby for giving me a night I will never forget.
And My girls.. Sarasi..Joanne..And Monica.. You girls have been my rocks throught all this.. And I love ya to bits.. Thanks for being there when I went all paranoid.. But you guys are still gonna get it from me for the Raa Raa thinghy.. Watch out my loves!!
My wonderful supportive family..Who stood by me throught all my nonsense and demanding demands.. I love all you guys..
To all my SIM mates who bought me Bailey's secretly knowing how much I love the drink! You guys rock!
All in all..It was the best night I ever had.. I felt great, I had my friends and family around me..And for one night, I was THE princess.. I needed this to boost my self esteem..And it worked.
Now I gtg finish my 2000 word report which has to be handed in tml..
Such a bummer..
But since I'm still on a party high..I'll prob work with a smile on my happy face!
Later...