Tuesday, June 14, 2005
I'm back!! Spent ALOT of money..Ate WAY too much..But I had a bloody good time..

But first..I actually went to watch Chandramukhi on Thurs.. Me.. The I-won't-pay-15-freaking-bucks-for-a-Rajini-movie me..And it wasn't too bad for a Rajini movie.. Maybe its because he wasnt the focus of the movie..Maybe it was because of Jothika's fantastic acting.. Maybe I was feeling loopy coz my bf just came back..

Do I really have to watch a Rajini movie?
We took the 3pm coach from Golden Mile to KL..Coz we being we.. booked our tics so last minute that we couldn't get the morning coaches out to KL. The ride out was bloody long..Took us about 5 hours.

Bored on the coach..
My cap!
We stayed at the Swiss Garden hotel which was bloody fantastic for the price we paid.. The service was wonderful and the room was so comfortable I didn't want to leave to go clubbing the first night. But I eventually got around to slapping the war paint on my face and hitting the clubs.. OMG..So fun!! And so cheap!! We went to one particular club where they were giving out free tequila shots and we didn't even need to pay the cover charge. And all the cute guys! Haha.. I know my bf was there with me.. But hey..Eye candy IS eye candy!
Off to the clubs..
How great is Chinatown is KL? Now, i'm not one for chasing after branded goods or their lookalikes.. But when I got there and saw stall after stall of imitation goods, I just got caught up in the whole buying spree.. And we often got stopped by DVD vendors who kept pushing porno flicks at my bf.. I came to the conclusion that it was because of the shirt he wore that day as pictured below..

Oooo..That shirt..
I love the necklace and the "Coach" pouch the most.. And I got so excited when I saw them selling fake Escada perfume! Coz usually at these fake perfume stalls, I can NEVER find Escada..So I grabbed a bottle at the 1st stall I saw.. And I never knew the both of us were such good bargainers.. We managed to get the price of a RM110 pair of sneakers down to RM50!! Mainly coz we pretended to walk away and the guy eventually called us back, agreeing to our price.

Spoils of a day's shopping..
The famous towers..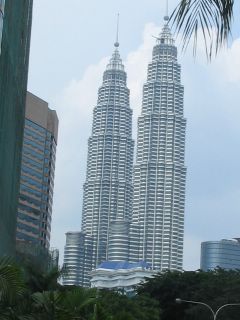 We went to Times Square shopping centre which is freaking huge! I was minding my own business window shopping when I heard this "whooshing" sound followed by people screaming above me. I got so freaked out until I looked up and saw a bloody roller coaster going by me! A roller coaster!!! In a shopping centre!! *Faints*
The roller coaster..
Oooo... The food in KL...Mmmm.. There was this restaurant in Times Square which had a chicken buffet for RM15 only.. Fried chicken, roasted chicken,nuggets,tenders,onion rings, mashed potato, baked potato, peach cobbler, pasta bar, salad bar, ice cream bar, choc chip cookies, brownies and drinks!! *Burp*

Mmmmm...Rasp Frap Tea.
And how can we NOT have Ramly burgers when we are in KL? And the best part was the price was the same as they are in Spore.. RM2.50.. And they tasted soooo much better too..

Mmm..Ramly Burgers..
As you have noticed, I like taking photos of my food when I'm on vacation.. Seriously.. when I was in Brisbane, I took photos of the humongous servings of fish and chips, Iced Chocolate and what not.. It's a weird habit of mine..

Mmmm...Breakfast...
This was the best waffle I had ever eaten in my life! With peanut butter and syrup!
Mmmm..Waffle..
I was a lil sad that my mini vacation was about to end but at the same time I couldnt wait to get back home. 3 days in KL is all you need.. More than that and you'll get pretty sick of it.. What's more I was already coming down with the flu whilst we were in the coach back, so all I wanted to do was to get back home, take a shower and hit the sheets..

Leaving KL..
Having said that.. I still want to go back and do more shopping!!! I actually rushed back to Chinatown an hour before the coach arrived to buy a pair of sneakers.. And if my bf didnt pull me away, I would have bought a bag to match it as well.. *Mumbles*

Anyhoo.. I have to go rest my flu stricken body now. *Sniff sniff*

Later...