Thursday, February 24, 2005
Finally..I've managed to hit the bloody word count on that stupid recruitment report.. Now just have to finalise shit and print it out tommorrow..
On to more sinful topics..I went to Apollo's for lunch with the parents.. Phew..Had a bloody good meal..Havent had one in DAYS.. Only thing was..I was too full to eat anything else the whole day. But Apollo rocks my socks..So I don't care..(Joanne and Saras: Wouldnt you SO like to be back so you can eat at Apollo's???? Hahaha..I know..I'm mean..)
Got a busy day tommorrow..Have to print the report and rush down to sch..After which I have to rush to town for Derek's birthday thinghy at Marche..Then off to Indochine (I think) for drinks.. Thank god the bf is driving..Else I have to come up with the bloody cab fare back..
I seem to be using the word 'bloody' alot.. Havent ya all noticed.. Haha..So bloody interesting.. I did it again!
Ya all know abt me and photos..So how can I resist a photo of myself typing out a report at 3 in the morning- complete with untidy hair and eyebags??
I look like shit at 3am..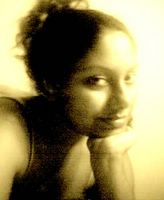 Aargh..Econs test next week..Havent touched the notes... Diededdddddd... My life and blog seems to be revolving around sch work these days..How sad.. Not to worry..I'll be back to normal after next week..*Crosses fingers*
Ooooo...how can I forget to tell ay all this?? I got Gmail!!! Yeap.. After placing my name on the list one bloody year ago..I finally have my very own Gmail account.. Freakin 1 GB of space..Haha.. Take that Hotmail..
Later...