Tuesday, December 28, 2004
This year's annual trip to Malacca/Seremban was fun if not crampy..in our new car...We were so used to travelling in our Trajet..It came as a shock when we had to travel at least 4 hours in the Liana...And me being me, had alot of stuff I just had to bring along with me..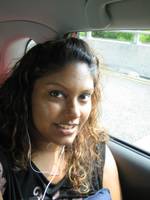 My handy Mp3 player
I sleep alot when I travel...Alot...

Sleeepinggggggg

We went to the Portugese settlement on Christmas Eve for our annual seafood dinner...The seafood was soo bloody fresh..And the crabs!!! Mmmmmm....
My mum and bro..

Sisters unite..
2 of my fav cousins..

We stayed in our uncle's house in Seremban since we couldnt book any rooms during the peak season..But I wasnt bothered coz I love staying in his house...The kids are sooooo fun to be around!! They're my favourite cousins out of the bunch... Sharmili,Soujiny,Dhivina and Yuven..
I got bored and decided to makeover the girls...Starting with their hair..
Cornrows!!
So cute no??

The elders..

The house..

Dhivina was born on the same birthdate as myself...So we do share certain attributes...
One..Being vain..
Two..Love photos of herself..
Dhivina..

Sharmili is really quite attached to me...Since eons ago...And I really love her too...
Sharmili..
Soujiny is the quiet one..who REALLY loves her TV..
Soujiny...
So with mixed emotions we began our ride home.. Happy that we were going shopping at Malacca..Sad that it would possibly a whole year before we saw our cousins again..
Goin back...(yes..I do realise the top is a lil too low...So stop staring)
And this would be my brother and sister attacking the kesari my aunt packed...oh..about 5 mins after we drove off!!!
Attackkkkkkkkk!!!

Who in Spore doesnt miss A&W's floats??? Everytime i go travelling in Msia..I try to drink at least 1 float.. There was once I had 3 floats in 2 days!! Its sooo yummy...

Root Beer Float anyone???
Who also doesnt miss Baskin Robbins in Spore??? We had the 3 scoop sundae..And my flavour was Chocolate Heaven!!
Yummm....
Monday was Ngee Ann Polytechnic's Concert Band's annual concert at Victoria concert hall.. This being my brother's final year in poly, it prob was his last performance as an official student..Knowing him and his passion for all things band oriented..He'll prob join as an alumni member and keep playing.. Since it might be his last perf we decided to suprise him with flowers..Coz every perf we went to previously, most players got flowers or teddies etc..

Not for me..unfortunately..

My brother and his love...His Tuba..
Suprise!!!!
Proud parents...

Me and Sunil.. Handsome rite!! Hands off ladies...Ya gotta go thru ME first!

The man of the hour..
Although I don't say it to his face, I am really quite proud of my brother...He's like the only Indian in the band and he really enjoys being in the band (I think..Most of the time anyhoo).. I dun ever think I can play an instrument lest play the bloody instrument in front of an audience!!
I just had to get in a pic of ONE of my recent conquests....New Boots!!! Nice riteeeeee....It goes so well with all my new clothes...
My new boots..
Phew...That was ALOT of photos... OMG I forgot a VERY impt piece of news!! Joanne is back in Spore!!! Yayyyyyyyyyyy...She got back on Fri morn...and we are gonna suprise Monica on Thurs...Gonna go wait for her at her workplace...Hahaha...She's gonna soooooooooo cry.. This means my NYE celebrations are gonna mean SO much more and is gonna be sooooooooooo much more fun!!!
Later..