Friday, November 12, 2004
Let's start from the top....
So on Tues, me and Shawn went to jb to get some last min stuff and my accessories..Was feeling damn tired when we got back but I still wanted to curl my hair so we went to the shop in Marsling..But I just had to get a shot of my hair before it cut cut!
Feeling Blue
The ladies at the hairdressers were sooooo nice..And their prices were quite reasonable too..The last time I coloured and highlighted my hair it cost me $190!!!! This time, the curling plus base colour and highlights only came up to $150! And I love the new hair...Check it out!!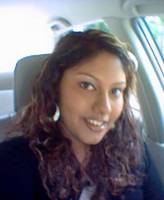 TaDaaaaaa
Nice no?? Hahaha...But it's taking a while to get used to NOT being able to comb my hair and I have to keep scrunching my hair up..The things we females do..So on the eve went to Tekka to get last min stuff and to get Shawn's jeans..He got them at Zara...Very niceeeee....I also wanted to get this cashmere V neck top...But another day laaa...And then finally went to Monica's booth to get my henna done..I was there around 4pm but only got to do mine at 12 midnite!!! Hahaha..she had quite alot of customers and me being the non-paying kind..decided to wait laa..Took the time to sew the beads and sequins on my sari blouse..Presenting the very talented Monica hard at work!!!

Hard At Work
And this is her booth's poster...Nice name yah?? Henna Fantasy!!
The Poster..
My henna was sooooo niceee...

Just Had It Done The Back
Seee...So dark rite??? It's a belief that the darker the henna, the more your husband/boyfriend loves ya...True???

After..
Me and my siblings created this rangoli design in our living room...Actually my brother did most of the work..He did the outline and everything...To those who dun know what rangoli is..Its a design that you make out of coloured rice..
Nice No?
I love my prayer room..Esp on Deepavali..Everything's soo grand..
My Prayer Room..
I chose this shirt for Shawn..so it matched my sari..Although he didnt know it at the time laa.. But it looks good on him..

Retro No?
My sari blouse turned out quite nice..It took me days to sew on all the sequins... I like this pic..We finally managed not to screw up a photo,,

The Pink Couple...
All my SIM mates turned up for lunch..Mel and Daphne even wore bindhis!! So cute laaa...
Foood...
Good conversation..good food..great friends..What more do ya need??
Yummy!!
Just before they left..From the bottom left...Ferrene, Kelly, Daphne, Melanie, Charmaine, Rafe
Top left..Richard, Me and Derek..

All of Us..
Monica also came for lunch..poor girl was soo tired.. But she looked so sweet in pink..What's with pink this year ah???
Monica And Me.. Watching TV...
My sis looked so good in yellow...I did her hair in cornrows..Both my siblings have grown up!!!! Sooo fastttt....
Act Cute Only..
Then left for my bf's house..Couldnt take the heat in my sari anymore so changed to my PINK (again?) punjabi suit...Guess who was there?? Kirthikaaaaa...My favourite girlieeee.... She's gotten even cuter!! And she recognised me immediately and came running...Awwwww....

Kirthikaa...
She was amazed with my digi cam..She looked at her pic and was like..'Naanaa, Naanaa??? ( Direct translation: Me Ahh, Me Ahh??)" Hahahhahaha....So darn adorable..

She's Just Too Cute..
Sighz....Deepavali's over for another year...But the visiting and all will continue laa..For the next month.. Already kenna booked by alot of people...But it's all good fun..Just wished my other 2 besties, Joanne and Saras were here! Would have been so much more fun!!! Miss ya guys...
Now gtg get ready to go catch a movie with Shawn.. Finally get to spend some alone time with him..Both of us have been soo busy the past few weeks..
Later..