Monday, November 08, 2004
I spent the whole day baking kuih tart and suji biscuits...Sighz...Finally finished...
Gtg to jb tommorrow to buy the accessories for my sari and suits..The ones I saw there were WAY nicer and CHEAPER than the ones in Tekka.. Then gonna go to the hairdresser's to curl my hair!!! Wish me luck...So in honour of my currnt hair..I shall post a photo of me in a rare moment where I let my hair down..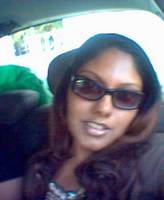 Whatcha lookin at?
TADAA....Actually looks quite well behaved rite..Sniff sniff..Gonna miss my hair..But I REALLY cant do anything with it laa..Always bunning it up 5 secs after I let it down..Sooo need a change..Hopefully it doesnt look TOO bad...
Llalalalaa...Gtg watch the 70s show now...
Later...