Sunday, October 03, 2004
Okie..ya all know how much I love my phone...I love my phone's camera even more... This one one of the earlier pics we took after a movie..Quite clear huh..Took it in Sepia mode... So fuckin cool laa.. Sorry la..Joined the camera-phone bandwagon quite late, so everything excites me..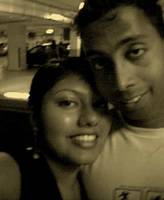 In the Freakin carpark
I love finding old photos! This was our groups attempt at giving the 'WHAT' look.. Total failure i think..with the exception of yours truly and saras (the one in black and short hair!!).. We all look sooooo much better now.. Thank God.. Actually I like my look then..But everyone will so kill me if I cut my hair short..Damn.. Miss those days laa..Bloody carefree..Always staying over at friends houses.. For example this is Vijay's house..Was his 21st birthday actually.. Used to stay there like almost evry other week... He had the nicest room and his mum made the best prawn briyani plus he was great to be with! I miss all that..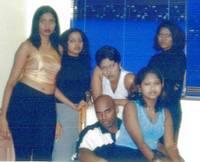 Retro..
I was thinkin about White Chicks the whole night..and laughing to myself..That black guy and his fascination with white booty...Bloody nonsense..Yeah someone..the wheelchair part was hilarious..Though i think my fellow cinema goers didnt get it..Coz they weren't laughing at all..Only me and Shawn were falling over each other and laughing like mad dogs..hahahaa..
Why are words being highlighted in my blog when I didnt even highlight them myself?? Words like health and sex?? I didn't link them to some other website!! Must be Blogger's techniques laa..So blogders..dun go clicking on sex ahhhh...I'll know if you're naughty or niceee!!! hehehehe..
Gtg paint my nails..
Later...