Sunday, October 17, 2004
So finally went out today..Went to Arab St and bought material for my sari..Prettty preetty pinky gold colour!! And presenting my sariiiiiiiiiiiiiiiiiii.... So retro no???
Pretty No???
I am suprised how super fast I am at buying clothes...I went into the 1st shop at Arab st..Chose the cloth i saw at once..And bought the length i needed...all in 5 mins..Even my bf was suprised at how fast i was...

Went to give my blouse for stiching...I went to the tailor and said...'I want my blouse to be low..like really low'.. Coz the last time i stiched a blouse and said i wanted it low, it was NOT low at all.. The tailor was like..'But this length will be REALLy low ya know...Still want?'... 'yes uncle i want it this low..Thank you very much'... hahahaha...Eh low then sari blouse will look nice laa..then what..when 40 yrs old then wear low cut blouse ah???

Went temple in the evening..Went to the Mariamman temple..So beautiful... That's wear the firewalking procession and my kumbududanam is being held..And as I was walking around the temple grounds..i felt so many small small stones getting stuck in my feet!! i was like OMG how am I gonna complete the kneeling process on this kind of floor?? But my bf was quite encouraging..He was like..it's all in your mind..when you're actually doing it, you dun think about all that..All you're focused on is God.. So profound for once my baby! Hahaha..

So being self obsessed and all..Spent the day happily taking photos of myself in this pretty green punjabi suit my uncle bought from Bombay... But only uploaded one laa..Wait ya all puke blood over your keyboard..then I have to be responsible for computer failure all around Spore...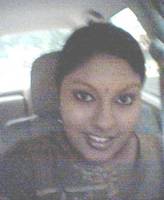 In The Car...
And for once and once only (at least for now)... ya all get a chance to see me with my hair down!!! I NEVER let my hair down fully in public...For one..I can't do anything with it down..i have no clue..Two..Its too bloody lechey..Must keep flipping and flipping.. Three..I dun really think it suits me...Wat do ya all think?? (Actually my hair looks straight and behaved here..So ironic..When I'm at home then my hair looks nice..Sheesh..)
OOO..
Tekka was sooo bloosy crowded today..But I had Mango Lassi so i didnt care much..Yummmmmmmyyy...Lalalala..I'm gonna sleep a happy girl tonight...
Later....